Photo by Neemias Seara from Pexels
Before the time of straightening wands and curling irons, there were ancient hair care rituals. Rituals that kept women's hair looking healthy and beautiful. But what does hair care look like around the world? Here's a look into some of the oldest hair care secrets from a few different cultures.
Buried within the heart of Indian culture lies a traditional hair care ritual passed down from generations – hair oiling. But it's not just about smothering your tresses in any oil you can find sitting on your kitchen counter. Instead, this centuries-old tradition uses the regenerative powers of natural oil by massaging into the scalp and hair for nourishment and moisture. The result is hair that is noticeably softer, shinier and stronger.
Photo by Anubhaw Anand from Pexels
Most Indian women don't just stick with one particular oil for their locks. They like to mix and match depending on their hair's needs. Sesame oil is commonly used during the colder months, while coconut oil is the oil of choice in summer. But the hot favourite amongst Indian women still remains – castor oil. Touted as the "King of Oils" in India, castor oil is high in omega-6 fatty acids, conditioning and strengthening hair follicles from within.
In addition to strengthening hair and nourishing dry strands, hair oiling can also help alleviate common scalp issues. Women gravitate towards moringa oil and bhringraj oil for their antimicrobial qualities, reducing dandruff while making the hair silky-soft. For added scalp benefits, some women even infuse oils with ayurvedic herbs, ingredients such as – amalaki to stimulate hair growth, hibiscus to thicken strands and antioxidant-rich brahmi to protect against pollution.
While traditional Indian hair oiling routines choose from a multitude of oils to tackle their hair care concerns, it is during the scalp massage that the magic happens. Gently kneading the scalp, temples and neck is not only cathartic, it also helps to exfoliate, boost circulation and condition the scalp, addressing hair health at the root.
Beyond beauty, hair oiling is also an intimate bonding affair between family, a tradition passed on from every mother in the family. Akash Mehta, the co-founder of Fable and Mane, an ayurvedic-inspired hair care brand, attributes his success to his grandmother. "She would visit every summer with these ayurvedic ingredients and make these hair potions while telling us ancient fables – it was haircare and story time", Mehta recalls. It was an opportunity to catch up and talk while indulging in hair care.
If there's one thing that I've learnt from reading Arthur Golden's Memoirs of a Geisha, it's that the Geiko really take their beauty routines seriously. And it really shows, as these women flaunt incredibly long and silky hair, like Rampunzel. But what's the secret behind their strong and healthy tresses? The answer lies in two simple things – camellia oil and a wooden comb.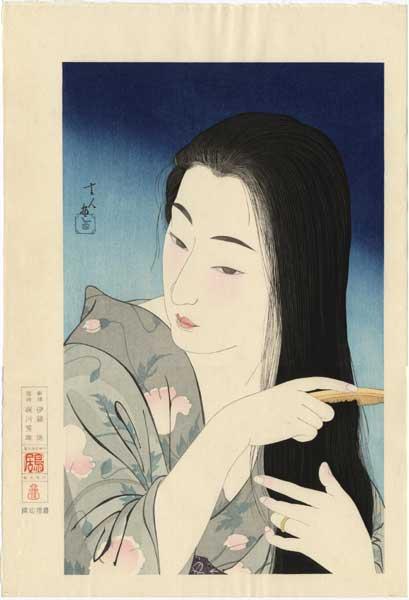 Combing the Hair (Kamisuki) — 髪梳き by Torii Kotondo, 1933
A Treasured Beauty Secret
Japanese grandmothers can attest to the wonders of camellia oil. Like what castor oil is to Indian women, camellia oil is revered in in the realm of Japanese hair care. Camellia oil, or tsubaki in Japanese is extracted from the seeds of camellia japonica flowers. The oil is rich in Omega-9 fatty acids and antioxidants, making for a richer oil that penetrates the hair follicle and locks in moisture. It's especially great for brittle hair, as it boosts elasticity and protects from environmental damage.
The camellia flower is highly regarded not just in Asia, it is also Coco Chanel's favourite flower. She was allegedly drawn to the flower's perfect symmetry, and saw it as a symbol of everlasting beauty. That explains why the camellia appears frequently on Chanel's packaging, bags and jewelry pieces.
The Unassuming Beauty Tool
Traditionally, women shampooed their hair as little as once a month. Some even took it to the extreme of only washing it a few times a year. Although this may sound horrifying in Singapore's heat and humidity, the infrequent hair washing was instrumental in preserving the scalp's natural moisture during the colder months. To take advantage of their scalp's natural oils, Japanese women would comb their hair several times a day, distributing moisture evenly from root to tip. The daily practice of combing the hair also has the added benefit of stimulating the scalp, promoting blood circulation and hair growth, for thicker and healthier locks.
The construction of the wooden comb itself is also important. Known as togushi, the traditional wooden comb was a staple in Japanese beauty routines. It was intricately made, with two rows of extremely fine teeth. The manufacturing process was a painstaking one. It began with growing trees to a suitable height. This process alone takes up to 30 years! The harvested wood is then fumigated and smoked in sawdust to ensure that they are completely dry and durable enough for intricate crafting. The lengthy process ends with a meticulous hand-carving of the boxwood comb. It took a great amount of skill to ensure that the teeth were straight and had a smooth finish that would not snag on hair strands. The shape and alignment of the comb's fine teeth were especially important, as the togushi was used to comb away grease and dust between washes as well.
Combining the reparative qualities of camellia oil with the age-old tradition of frequent hair combs, Japanese women were able to remain a subject of envy, with long and frizz-free tresses that look irresistibly soft and healthy.
While we're more accustomed to having coconut milk in our desserts, Thai women are no strangers to this hydrating ingredient. Coconut oil is often seen as the hero saving grace for dry and parched strands, but not enough attention is paid to its close relative – coconut milk.
Photo by VisionPic from Pexels
Coconut milk is essentially coconut pulp puréed with water, and has natural fatty acids to restore proteins in the hair while providing much-needed hydration. An added benefit of choosing coconut milk over coconut oil is that it is lower in oleic acid, meaning it won't leave your hair feeling weighed down by heavy oils.
Aside from using it as a leave-in treatment, try applying coconut milk 30 minutes before you shampoo. You'll be left with ridiculously soft tresses. After all, coconut milk adds a layer of protection against harsh shampooing agents and conditions your hair with nutrient-rich oils.
In Ethiopia, hair care is not just a simple beauty regime; it signifies something different to each and every one of its 80 ethnic groups. Each group has their own special tradition: some brides accessorise with gold or silver beads in their hair, while others use intricate braids to symbolise youth.
Expressing With Hair Colours
For centuries, Ethiopian women have relied on raw, unsalted butter to provide moisture to their locks. This is an important step, as curly hair is more prone to breakage. Depending on their geographical locations, this ranged from shea butter, to ghee and even clay and mud in some cultures! However, the most interesting hair care practice takes place in the heart of Southern Ethiopia. Women from the Hamer tribe have been colouring their hair a deep shade of red since from the very beginning – long before synthetic hair dye made its rounds across the globe.
Photo by Marta Branco from Pexels
Mixing raw butter with red ochre, these women paint their locks a vibrant terracotta shade as a sign of health and vitality. They then gather their hair into long twisted strands, a hairstyle that is unique to the Hamer Tribe.
While we may not have access to ochre and such natural forms of hair colour here in Singapore, we can learn from the Ethiopian women's use of moisture-rich ingredients and natural dyes to make a statement. So the next time we might want to change up our hair colour, perhaps we could consider trying some henna or other natural alternatives instead of reaching for synthetic hair dyes. It won't be as damaging on our hair follicles, promise!
Unlike Asian cultures, which valued dark-coloured tresses, women of ancient Greece prided themselves in having blonde hair. Blonde hair was seen as a symbol of pure beauty, thanks to the Greek Goddesses like Aphrodite and Athena, who were described as golden-haired in ancient Greek texts. But the Greek hair was naturally dark and they had to resort to bleaching ingredients like vinegar, lemon juice and sometimes a mixture of beechwood ash and goat fat to achieve a lighter-hair colour. This made their hair dry and brittle, as they left their hair saturated in strong acids or alkalis for extended periods of time. Do not try this at home!
Repairing Damaged Strands
Photo by cottonbro from Pexels
To counter this, they looked to olive oil to restore the moisture lost from their harsh lightening routines. The olive tree was well-respected and revered as one of the most important Greek mythical trees. Aside from its cultural significance, the oil of the olive tree was a crucial part of Greek beauty routines. It was even labelled as "liquid gold" by Homer, as it was a natural source of amino acids and antioxidants. This helped nourish their parched locks, and was a soothing end to their damaging hair bleaching routines.
Hope you found some of these ancient hair care routines interesting! Till next time, stay safe!